Health and wellness is as important as ever and when it comes to corporate promotions, drinkware is always a big hit. After all, hydration is one of the most widely recommended elements of healthy living. According to the Institute of Medicine, the adequate intake of total beverages for men is roughly 13 cups (3 liters) per d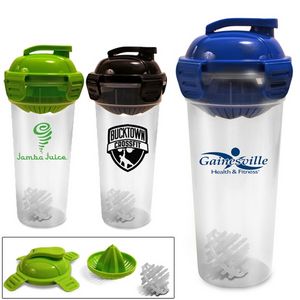 ay, and for women about 9 cups (2.2 liters) per day. So it's no wonder promotional drinkware is an integral component in the list of merchandise we recommend for health and wellness promotions.
The hottest new type of promotional drinkware is the shaker bottle, which not only provides the ability to hydrate, but also ties in with the popular trend of powdered supplements for pre-workout, post-workout and general meal replacement. We believe this trend adding powder to water will stay popular for many years, making shaker bottles a good investment choice for your advertising or promotional dollars.
Whether the recipient is an avid fitness lover or a newbie, either can appreciate being given a quality shaker bottle and newbies might even be motivated to workout by having a new cool bottle
What is a Shaker Bottle and What are their Key Features? 
There are many types of shaker bottles with different features and functions, but generally a shaker bottle is a non-electric cup or bottle with an internal mixing mechanism that simply works by – you guessed it, shaking. Features include, screw on lids, different types of drinking spouts, the mixing system itself, and optional measuring guides, flavor infusion, and dry powder storage.
Size also matters. Bottles range from about 12 ounces to as large as 28 ounces depending on your needs. There are also a variety of shapes, sizes, colors, and functions as well, so finding the perfect bottle to fit your active lifestyle is a painless process.
How do you use the shaker bottle?
Shaker bottles are pretty easy to use: open them up pour in your liquid (typically water), use the optional measuring scale often molded into the bottle. Add your powder, screw the lid back on tight, and shake. Re-shake as necessary.
Make sure to clean your shaker bottle
We've heard from some of our customers about the importance of cleaning these bottles well. Most are at least top rack dishwasher safe, otherwise some soap, hot water and a kitchen brush should do the trick. Store with the lid open or at least the drinking spout to avoid odors.
Why do people drink protein shakes?
People drink protein shakes for various reasons, some of the most common being to build muscle and burn fat. Others drink shakes to support a healthier lifestyle and to maintain weight. Most athletes drink protein shakes after their workout sessions as nutritional supplements to give their bodies additional energy and reduce recovery time. In the fast paced world we live in, people are constantly searching for a healthy solution to a quick meal! Whether you're on the drive to work, the gym, home, or picking the kids up from school — the convenience of a shake is becoming the ideal healthy solution, often more filling and nutritious than periodic snacking on fast food.
How do organizations use shaker bottles to promote your brand?
It's no surprise that the implementation of wellness programs continues to rapidly grow across our nation. These programs are often at the corporate level for their employees, by government organizations, by gyms, and fitness companies. If you are in the healthcare, wellness, fitness field these bottles are a no brainer choice if you haven't used them previously.
Here are some statistics to support your decision to promote wellness. In a report posted by The Institute for HealthCare Consumerism, companies who have successfully executed wellness programs have significant costs reductions and financial gains which include 28% reduction in sick days and 26% reduction in healthcare costs. It is important to offer programs and events to promote healthy living and healthy lifestyles such as eating properly, exercising, and getting enough sleep.
Promoting healthy living is welcomed by all and a great caring concept to attach to your brand even if your business is not directly related to wellness. Shaker bottles are also great items to giveaway at different events, conferences and trade shows. Because the shaker bottles and wellness overall, is so popular, there is a good chance the user will hold onto this product with your custom logo printed on it. Some will make it a habit.
Enough already! Show me some Shaker Bottles!
Check out some of our most popular models below:
Shaker Bottle w/ Measurements:
This shaker bottle is perfect for the gym and workout enthusiast. It contacts a large 20 oz. bottle with a removable plastic lid and a tethered flip top for drinking. There is a removable plastic propeller that helps with the mixing process by preventing powder build up. The measurements are listed on the outside of the bottle making the prep a no brainer.
Shaker Bottle w/ Citrus Juicer: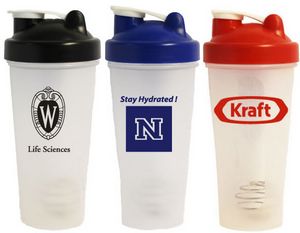 This is a shaker bottle with a slight twist. This bottle includes the bottle, lid with drinking spout as well as a removable juicer which allows you to add more flavor to your shake. The mixer ball is also included inside the bottle. This shaker is great when you want to add a little fresh variety to your shakes or smoothies.
The Blender Bottle the world's best-selling brand name Shaker Cup. This classic bottle is what many model their shaker bottles off of and it includes: a drinking spout, domed lid, white flip cap and the patented BlenderBall wire whisk. The BlenderBall, which is located inside, whips around as you shake, mixing up thick protein or add in's. It is even strong enough to mix up peanut butter and yogurt! The wide opening on the Blender Bottle make it easy to pour liquid into the bottle as well as makes for easy clean up!